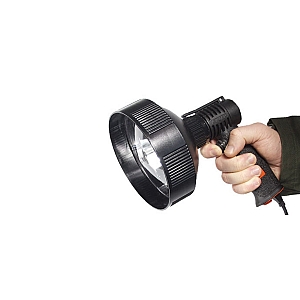 actual item may vary slighty from image
Tracer 12v Sport Handheld & Scope Mount Lamp Kit

Powerful, Lightweight and Durable hand held lighting solutions from Tracer
Ideal for hunting, observing wildlife, security & surveillance and remote mounting.
Kit includes: Scope mount handle
Quickly and simply converts the Sport Light 140 VP for use with a rifle. Ideal for lamping.
Quick & Easy Mounting
Tracer Sport Gun Lights feature an innovative beam elevation control allowing a ten degree movement of the light (up or down)
High Performance
Featuring a vertical filament 50W halogen bulb,capable of producing a super bright 400 metre beam.
High Quality
High impact Lexan Polycarbonate Lens with `Spot-Flood` adjustment.
Designed for Comfort
Ergonomically designed, with a textured and finger contoured handle to fit securely in the users hand. Tracer Sport Lights are well balanced and comfortable to use.
Lightweight and Durable
Tracer Sport Lights are encased within a durable and fully weatherproof polycarbonate body, providing excellent protection from the elements.
Flexible
Featuring a heavy duty coiled lead fitted with a fused 12V cigar plug and handle thread for remote mounting.
What`s in the box;
◾Tracer 140mm 0r 170mm Handheld Light
◾Scope Mount Handle
◾30mm Mount
◾1″ Mount
Our ref: WLTR1*
£74.99