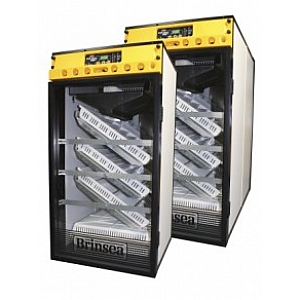 actual item may vary slighty from image
Ova-Easy Advance Cabinet Setter/Hatcher

Ova-Easy features include:
High performance flexible incubators with intergral hatcher. Flexible egg handling to suit a wide range of species. Adjustable,universal egg trays supplied as standard. Fully automatic egg turning with programmable intervals. `Advance` digital temperature control with temperature & humidity display,alarms & turning settings. Clear,double-glazed observation door. Energy efficient insulated cabinet. Unique 4 fan `laminar` airflow to eliminate coldspots.
190 Advance & 190 Advance EX egg capacities - 869 quail,233 pheasant,192 hen,125 duck/turkey,63 goose.
380 Advance & 380 Advance EX egg capacities - 1738 quail,466 pheasant,384 hen,265 duck/turkey,126 goose.
580 Advance II & 580 Advance II EX egg capacities - 2976 quail,708 pheasant,576 hen,390 duck/turkey,180 goose.
Our ref: MJ*
£764.90