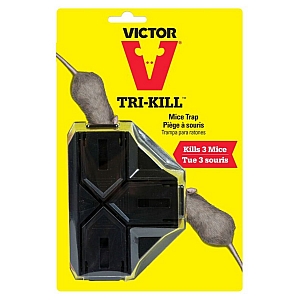 actual item may vary slighty from image
Victor Tri-Kill Mouse Trap

Only multi-kill mechanical mouse trap on the market.
Easy to use: simply bait, place against the wall and press setting levers down.
Kills up to 3 mice per setting with 3 entrances for quick control of mouse problem.
No chemicals or poisons to harm children or pets.
Reusable or disposable.
Our ref: VCM944
£6.49