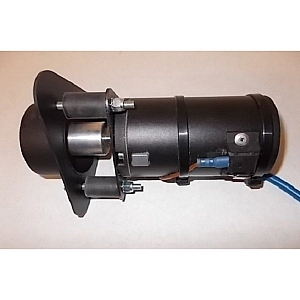 actual item may vary slighty from image
Solway Automatic/Mobile Feeder Motor
This assembly can be retro-fitted to most feeders back to 2000 and in some cases a modified version can be made to fit machines back to 1992. Please specify the model and year of your machine when ordering. Comes complete with alloy boss. New mount features anti-vibration system as standard.
The feed rate is set based on using clean dry wheat. When feeding pellets or a mixture of pellets and wheat the feed rate will be reduced. If you are using this motor in a static /automatic feeder this may require increasing the feed period setting. If you are using it for any of the mobile feeders you may need to "spin" for a longer time. It is not recommended for larger kernal such as whole maize of large sunflower seeds or the like, but we can supply a modified version for these large feeds at extra cost, please contact our sales or technical department for more information.
Please ensure these motors are connected with the correct battery polarity and have the correctly rated fuse in line 15amp.
Our ref: FEAM0005
£149.50