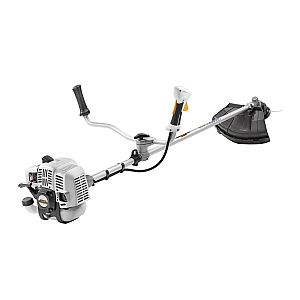 actual item may vary slighty from image
Alpina B32D Brushcutter
The B32 D is an environmentally friendly trimmer/brushcutter for all types of garden jobs. Powered by a 32.6cc 2 stroke engine producing 0.9kW running on unleaded petrol, this model features a 26mm straight shaft and bike handle.
Supplied with a Tap N` Go nylon line head* with double 2.4mm lines and double shoulder harness to allow for a correct weight balance of the brushcutter whilst in use. The ergonomic shaped back part ensures even higher comfort.
The anti-vibration system placed between the engine and the transmission reduces arm stress and fatigue.
*The Tap N` Go system allows the operator to renew the line as it wears by just tapping the auto-feed line head on the ground when the machine is in use.
Engine Alpina 2 Stroke
Capacity 32.6cc
Shaft Straight
Net Power Output 0.9kW
Fuel Tank Capacity 0.8 Litre
Anti Vibration System Yes
Metal Blade 3 Tooth
Handle Bike
Harness Double comfort
Net Weight 8.4 kgs
Call 01886 884 100 for our best price