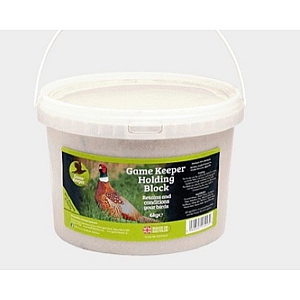 actual item may vary slighty from image
Game Keeper Holding Block 6kg
The Game Keeper Holding Block has been developed in response to popular demand.
Used in strategic locations around an estate or shoot, it assists the essential retention of released birds, as well as supplementing their wellbeing.
12 selected ingredients known to be naturally attractive to game birds.
A specially formulated "attractant" to further encourage bird retention.
A very high energy content which enhances the birds health and condition… when it matters.
Careful ingredient selection to ensure a continuous supply of energy and proteins to supplement natural and additional commercial feeds.
A hardness and durability which allows free access without over consumption, giving a programmed release.
THE CONVENIENT DURABLE BUCKETS ALLOW A CHOICE OF FEEDING METHODS IN THE FIELD
The method below provides protection from the weather and vermin. If desired the product can also be removed from the bucket and used in another feeder.
Use the bucket as a feed dispenser.
Do not remove the lid.
Cut round the inner ridge of the plastic base to expose the feed.
Leave feed exposed on ground for a short time for birds to become familiar.
Hang by the handle just off the ground to allow the birds to peck from below.
Recommended height from the ground:
Pheasant 15-22 inches (35-55cm)
Partridge 10-15 inches (30-35cm)
Our ref: GKHB
Analysis 90% DM Basis
Oil 21%
Ash 18%
Protein 9%
Crude Fibre 6%
£19.60