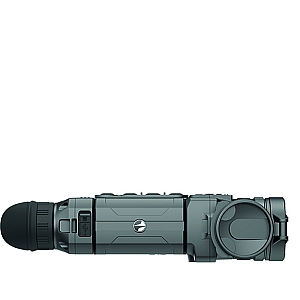 actual item may vary slighty from image
Pulsar Helion XQ38F Thermal Monocular
The Pulsar Helion 2 XQ38F builds on the success of the previous XQ Quantum models but comes with extra features. The all new Pulsar Helion XQ38F thermal imagers are now fitted with the latest generation ULIS 17µ a-Si thermal sensor, which delivers 35% higher performance, giving more detail and magnification and an ultra-fast start-up time.
A heat sink, located on the device`s body, effectively prevents heat build-up from the sensor and other components while also significantly reducing temperature and noise sensitivity - especially between calibrations.
Helion XQ models include up to 4x magnification and feature both 2x step-up and smooth, graduated magnification for a truly optimum, customized field of view.
At a high refresh rate of 50Hz, the Helion series provides comfortable viewing throughout dynamic, rapid motion.
The Helion XQ38F thermal imaging scope can detect man-size heat signatures up to 1350 meters away.
PiP allows you to see a zoomed image simultaneously with the main image in a dedicated window within the viewfinder.
Capturing still images and video is seamless with the Helion's built-in video recorder. Image and video content is stored internally and can easily be transferred to PC/laptop via wired connection or Wi-Fi.
The highlight of the Helion is the ability to link via Wi-Fi the device with Android and iOS based mobile units using the free mobile application Stream Vision. The Stream Vision software connects the device with Android/iOS devices which enables you to receive footage in real time mode, to distantly operate the device with your smartphone and to stream the footage captured by the device to direct to YouTube.
All Helions include a progressive autonomous B-Pack power supply consisting of a quick-detach, rechargeable IPS5, 5.2A-h battery pack designed to deliver up to 8 hours of operation. Higher-powered IPS10 battery packs, CR123A and AA battery cases are also available and provide a perfect off-grid power solution.
Based on the estimated heights of observed objects, the stadia metric rangefinding reticle makes determining distances fast, easy, reliable and repeatable.
IPX7 waterproof-rated protection ensures the Helion performs perfectly in wet weather, even during intense rain, snowfall and submersion in 3 feet of water for up to 30 minutes. (IEC 60529).
With a frost-resistant AMOLED display, the Helion thermal imaging scope is designed to deliver flawless performance at an extreme temperature range of -25°C to +50°C.
The ergonomic, wireless remote control, with encoder wheel, puts the full range of the Helion's capabilities at your fingertips for comfortable, convenient, hands-off operation.(optional accessory)
During short periods of inactivity and better concealment, Display Off powers down the display without interrupting other operating functions. Using Display Off means a much faster restart time when you need it most.
The Helion is designed with ease-of-operation in mind. User feedback has resulted in the most user friendly interface to date, complete with an easy-to-read, icon-driven, alpha-numeric status bar at the bottom of the display. Internal menu items and options are also displayed on a contrasting gradient substrate so you can keep an eye on settings without losing sight of your objective.
For initial setup and additional updates, the iOS and Android compatible Stream Vision App ensures the most recent Helion software versions are available.
Magnification: 3.1x to 12.4x (Digital)
Horizontal Field of View: 9.8�
Detection Range: 1350m
Thermal Sensor: 384x288 17�m
User-friendly interface
Three operating modes - City, Forest, Identification
Three calibration modes – Manual, Semi-automatic, Automatic
Built-in Wi-Fi module
Eight colour palettes for observation
Built-in 3-axis accelerometer, gyroscope, magnetometer
Defective pixel repair function
Stadiametric rangefinder
Display off option
Functional and ergonomic design
Updatable features
Wide range of operating temperatures (-25�C to +50�C)
£2249.95