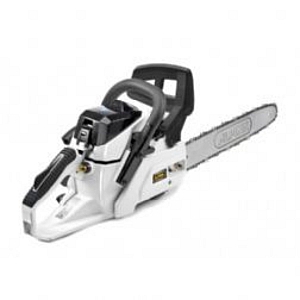 actual item may vary slighty from image
Alpina C38 Chainsaw
C38
Take on the home tasks with the Alpina C 38 petrol chain saw. Powered by a 37.2 cc, 2-stroke engine with Easy Start device and provided with 16"/40 cm bar, automatic adjustable oil pump and chain tensioning by side screw tensioner tool included.
Maximum safety is granted by the manual and inertial chain brake, while you can easily access to air filter and engine spark plug without any tool.
A.V.S.
The anti-vibration system, using shock absorbent materials, isolates the operator from vibrations produced by engine and cutting system. The benefits are less fatigue stress on arms and hands and a more comfortable working operation
Double chain brake
In case of kickback, the double braking system is able to stop the chain in a fraction of a second. The inertial device automatically stops the chain speed in case of inproper contact while the manual brake is easily activated by operator`s hand on the safety guard
Easy start system
The innovative starting system reduces up to 30% the resistance in the starter cord. The result is a faster and incredibly comfortable way to begin the work
Low emissions
New modern engine technolgy allows to decrease fuel consupmtion and reduce exhaust emission levels accordingly with current environmental regulations
Primer
Primer bulb instantly gives the first fuel flow to the carburettor allowing a quick start, even after a long engine stop
Side chain tensioner
Placed on the machine side, it allows to reach the chain housing with a simple tool and keep the tensioning avoiding any contact with the saw chain
Softgrip handle
Softgrip is a special rubber which protect the handle where it get holded while the machine is in use. Absorbing part of the vibrations while augmenting the grip it makes more comfortable the use of your machine.
Our ref: AGRALPC38CS
Specification
Displacement: 37.2cc
Power Source: Petrol 2 Stroke
Bar Length: 35cm14 inches
Starter: Easy start recoil
Engine Net Power: 1.2kW
Bar Type: Sprocket Nose
Fuel Tank Capacity: 0.4 Litres
Handle Type: Rear Handle
Call 01886 884 100 for our best price