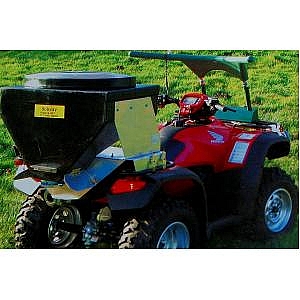 actual item may vary slighty from image
Solway Quadbike Mobile Feeder
Features our new high output, high torque UK designed and built 12vdc motor and heavy duty wiring loom.
The new model comes with an updated wiring loom and handle bar switch allowing you to select continuous feeding or pulse feeding for periods of up to 10 seconds. The Solway mobile feeder scatters feed from your atv or quad bike along the length of each feed ride and by planning your entire feed route carefully, you will not only save yourself time, but you will also see your birds become wilder with less wandering, leading to a better spread over the guns.
Used cleaned / sieved feed only, stones and foreign matter will damage your feeder and void your warranty.
The unit has quick release fasteners and does not restrict the addition of a trailer. The hopper is moulded from strong polyethylene with a recommended maximum capacity of 60kg. The lid is designed to be easily tilted, and has an internal bungee and cord retainer, and the spinner has raised rolled edges to prevent spillage. The feeder scatters food in a fourteen foot spread, and although the flow rate is fixed, the feed rate can be controlled by a pushed button on the handlebars. The powerful 12vdc motor runs on the vehicle`s battery, a wiring loom and plugs are provided to fit most agricultural quad bikes. If you are fitting to a non standard vehicle we can make a custom loom at additional cost. Connection must be made to a fused supply 15 amp fuse rating. The feed rate is set based on using clean dry wheat. When feeding pellets or a mixture of pellets and wheat the feed rate will be reduced and you may need to "spin" for a longer time. It is not recommended for larger kernel such as whole maize of large sunflower seeds or the like, but we can supply a modified version for these large feeds at extra cost, please contact our sales or technical department for more information.
The hopper is attached to the ATV with sturdy aluminium brackets, and can be unclipped and removed in less than thirty seconds.
Important when ordering this item, please specify the make and model of the atv that you plan to use it with, as well as the measurements of the back rack. The back rack of your atv must be made of round tubular steel, the feeder cannot be fixed to the cheaper plastic racks for safety reasons. The back rack must also be parallel sided not tapered or shaped/curved. Fits standard racks 7/8 inch (22mm) round tube 36-42 inches wide or 90 to 108 cms wide. If outside these measurements please consult our technical sales team.
Please check with your atv supplier that your particular machine is suitable to carry the extra loading on the back rack. We only recommend specifically designed agricultural machines of at least 350cc, preferably 4WD. Leisure & sports machines are not suitable, high speed is not required or desirable 10mph max when feeding on level ground. Reduce speed and load on hilly or uneven ground. The Solway machine feeder is designed for OFF ROAD USE ONLY, if you atv is fitted with road legal lighting some adjustment might be required by your ATV Dealer.
Approx. dimensions: 36ins (914mm) wide, 20ins (508mm) deep, 22 ins (558mm) high; height 22ins (558mm) at rear, 18ins (547mm) from rack. lid: 33ins diameter. spinner: 6.25 ins (160mm)
Our ref: FE1301
£645.75