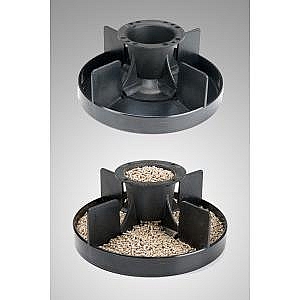 actual item may vary slighty from image
Large Pan Feeder

BEC have refined their Large Pan Feeder, although this 10" (250mm) pan can be fitted to any suitable container for game and poultry feeders - it is specifically designed to be used in conjunction with the BEC Emperor Feeder.
To prevent feed waste we have developed an anti-flick ring that is available separately.
The vertical blinds also helps overcome protective cock birds which can defend the feeder area from other users.
The large feed pan has a drain strip to allow dust and water to run out thereby reducing cleaning frequency. The cone feed prevents the jamming of the neck and can be used with most feeds. The unit is supplied with four heavy duty angled anchor screws.
Our ref: FEHFBC2004
£11.75