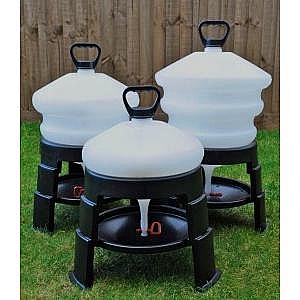 actual item may vary slighty from image
Tripod Drinkers
The BEC Tripod drinkers are durable, easy to use and maintain - simple to fill, they have a deep water pan with a large surface area, ideal for all varieties of poultry, ducks and game birds.
Simple to assemble, light and easy to move - stable on uneven ground.
Available in three sizes with 10, 20 & 30 litre barrel capacities.
Made from UV stabilized polypropylene and polyethylene these drinkers are designed to cope with the toughest conditions on shoots and poultry farms throughout the globe.
Our ref: DRHABC030**
£30.75