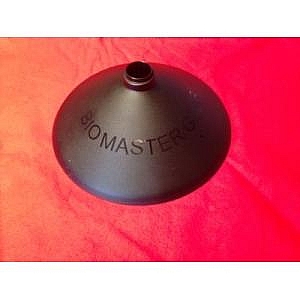 actual item may vary slighty from image
BEC75 Biomaster Cover

For many years a system that will help to protect the birds from disease and infection has been long overdue but a Gamekeeper has developed the new Biomaster guard, this unique idea prevents contamination preventing dust, dirt and faeces from entering the automatic drinking systems.
Keeping the water clean and fresh is the best way of preventing the threat of Mycoplasma a disease that is passed on by wild birds droppings or mucus from infected birds; this is very serious disease that can be spread through water contamination very quickly through the flock.
When using the Biomaster, it prevents water dilution, which in turn allows any added medication, vitamins and sanitates to maintain there full strength, tests have proven that without the Biomaster fitted, the sunlight can encourage bacteria to grow and cause 25% evaporation of valuable additives that have been added to the water.
Most bacteria do not survive in water at below 8 degrees, so with our milder winters are birds are at risk for a longer period of time, the new Biomaster guard will help to protect birds all year round.
Our ref: DRBCS
£6.75