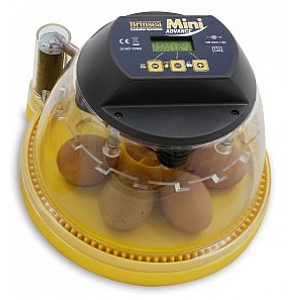 actual item may vary slighty from image
Brinsea Mini Series Incubator

The Mini Eco is a manual turn incubator and provides the fine temperature control to ensure consistent & reliable hatch.Egg capacity - 24 Quail,12 Pheasant,10 Hen,8 Duck/Turkey.
The Mini Advance is a automtic version with a autostop 2 days prior to hatch,countdown to date of hatch & temperature alarms on its digital display so you can keep an eye on egg status.Eggs are rotated by egg disks & there are 2 available,one for 7 eggs of all sizes up to duck size (std supply) and the second is a smaller disk for holding 12 eggs up to pheasant size available as an optional extra. Egg capacity - 12 Quail,12 Pheasant,7 Hen,7 Duck/Turkey.
The Mini Adavnce Ex is based on the Mini Advance version but it provides vital additional feature for breeders of small numbers of highly valuable eggs.It is particulary suitable for parrot eggs. The EX version replaces the countdown to hatch feature with a highly accurate management of incubation humidity control system. Egg capacity is the same as the Advance except it will take 7 Parrot.
Our ref: A0*
£77.28