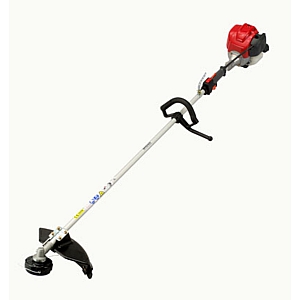 actual item may vary slighty from image
GX25 Honda 4 Stroke Brushcutter
Golden Star brush cutters feature light weight, superior performance, anti-vibration system, low fuel consumption in addition to long-term durability.
Single harness with quick release hook
- High quality and reliable Japan brand engine(Honda)
- Main shaft made by the reliable quality control in Japan.
- Durable gear case system with sealed ball bearings gives smooth performance
- Fully heat treated cycloid bevel gear made of chromium molybdenum steel transmits the power efficiently
- Well balanced anti-vibration bushes in combination with vibration absorbing rubber and oil impregnated sintered metal support the shaft cutting vibration and smoothly transmitting the power.
- Heavy duty anti-vibration system.
Our ref: AGGX25
Engine: Honda GX25, 4 stroke, 25.0cc
Loop handle
Anti-vibration clutch case
D type (trigger lever with engine stop switch) throttle lever
Steel blade 230 x 8 teeth 1 pc
Nylon line head(bump and feed)
Single harness with quick release hook
Call 01886 884 100 for our best price