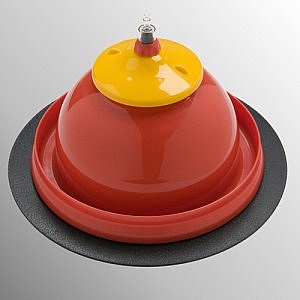 actual item may vary slighty from image
Dome Master Drinker

The New Dome Master Drinker from BEC is a gravity fed, ground based game bird and poultry drinker with a centrally sprung, valve, system that ensures that the reservoir is always full. Manufactured in the UK, to ISO 9001:2000 standards, the BEC Dome Master Drinker is readily available ex stock.
Its transparent valve stem allows full view of the in line filter so blockages can be quickly cleared ensuring continual water supply.
Its dome shape means there are no perching points thereby preventing water contamination and the base has BEC`s unique "ChickGrip" textured surface for improved grip for small, or young, birds.
Delivered boxed and ready to use, the BEC Dome Master Drinker is easy to strip, clean and maintain. It is 35cm in diameter and stands at 22cm high.
Our ref: DRDMD
£13.00